Welcome to nMotion Physical Therapy Woodstock
nMotion Physical Therapy Woodstock is one of the most constructive physical therapy clinics in Woodstock GA. nMotion specializes in physical therapy, hand therapy, and occupational therapy services. Our rehab environment is one that is patient focused, fun, and provides quick, effective results.
As our second location, this office is nestled in what was once the Bank of Canton. Conveniently located just 1 mile from 575 and next to Truett's Chick-fil-A, our office is filled with personality that includes our friendly, encouraging staff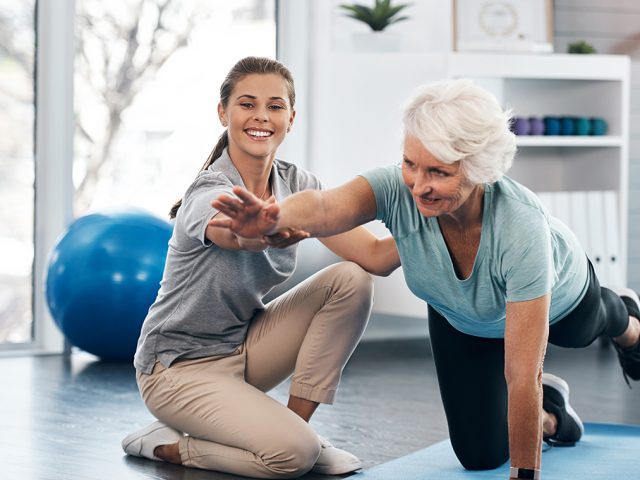 "Your Rehab. Our Passion"
We want each patient to feel welcomed and believe that nMotion Physical Therapy in Woodstock GA is the best place for their rehabilitative care. Our physical therapists in Woodstock GA work under the motto "Your Rehab. Our Passion" because we sincerely want to see our patients completely recover and get back to the same level of living as safely as possible.
It's our goal to put the lives of people suffering from pain or impairment back nMotion with compassionate and patient-centered care.
Physical Therapy
At nMotion Physical Therapy Woodstock GA, our approach to physical recovery is knowing you, along with your goals, and setting up an individual plan designed to reduce your pain, maximize your mobility and restore your function.
Our Woodstock physical therapy team has years of hands-on experience in orthopedic, neurological, and sports rehab. It's this expertise that leads to remarkable outcomes and results with our clientele.
nMotion's physical therapists in Woodstock GA know how to treat a variety of conditions, including arthritis, ankle injuries, upper and lower back pain, and more.
Hand Therapy
The hand is a complex and delicate part of the human anatomy and, as such, hand therapy and upper extremity rehabilitation is a specialized niche that requires highly trained and skilled therapists.
nMotion's team of physical therapists in Woodstock GA consists of uniquely qualified individuals able to evaluate and treat your problems to the upper extremity. We effectively treat and rehabilitate each patient through post-operative recovery, preventative, non-operative or conservative treatment.
We are also able to work with patients to return to being fully functional in the work environment. Conditions or disorders treated include tender tears and repairs, rheumatoid arthritis, osteoarthritis, ligamentous sprains, and more.
Occupational Therapy
Injured on the job? Our team of licensed occupational and physical therapists in Woodstock GA share your goal of a quick and effective work injury recovery. We create a customized therapy program tailored to your specific injury to assist in the recovery of your function and body mechanics and reduce the chances of future injury. 
Depending on the type of injury, programs that may be utilized consist of back and neck safety education, work conditioning, personalized exercise plans, body mechanics assessments, and ergonomic assessments.  
Our passion for healing people and helping them achieve their goals, combined with our years of experience and dedication, make nMotion Physical Therapy the primary choice for many physicians, case managers, and work injury attorneys. 
Other Services We Offer
In addition to the above, we also offer the following services:
Dry needling
Kinesio Taping
Custom Splinting
Sports Rehab
Fall Prevention
Manual Therapy
Work Rehab
Telehealth
Insurances We Accept
nMotion is in network with all major insurance carriers. Accepted insurances include:
Aetna (all plans)
Ambetter
Attorney Liens
Blue Cross/Blue Shield (all plans)
Cigna (Health Springs Excluded)
Coventry (all plans)
Humana (all plans)
Kaiser (PPO/Multi-Plan only)
Medicare
PHCS (all plans)
Tricare
United Healthcare
Workers Compensation
No Insurance?
nMotion is also the best option if you are looking for physical therapists without insurance in Woodstock GA. Georgia is a direct access state, which allows us to evaluate and provide you with education, exercises, and treatment without a prescription or referral from your physician. Following initial evaluation, you can be seen for up to 8 visits within a 21-day period. Inquire about our self-pay rate.
Ready To Get Back nMotion?
nMotion Physical Therapy is the best choice for people looking for physical therapists in Woodstock GA. Our team of therapists will respond within 24 hours, guaranteed. Request an appointment today.
Woodstock
295 Molly Lane
Suite 140 Woodstock, GA 30189
Phone: 770-517-2288
Fax: 770-517-2289
Make a Payment